Hersheypark Stadium | Hershey, Pennsylvania
If you loved "Good Old Days," then get ready for a great one – that's right, on the Saturday 21st July 2018, Kesha and Macklemore are coming to the Hersheypark Stadium as part of their The Adventures of Kesha and Macklemore tour! Tickets will disappear FAST so don't wait about – hit the "Buy Tickets," button NOW and get yours before they go!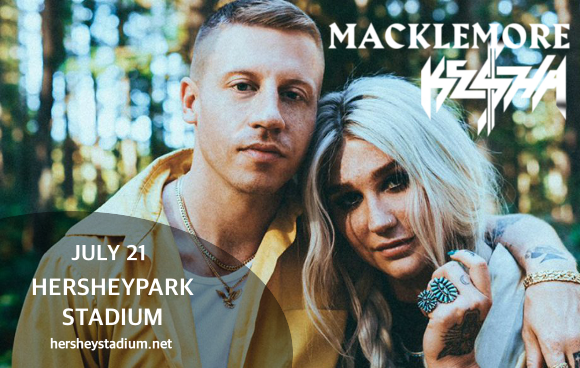 The single "Good Old Days," from Macklemore's recent, highly anticipated studio album "Gemini," marked the first time the two artists had worked together. The amazing collaboration occurred partially by chance; "Kesha was in Seattle and she wanted to take an off day, and I talked her into coming into the studio," Macklemore explained. "We made the song in a couple hours." Macklemore instantly became friends with Kesha and was full of praise for the singer. The feelings seem to be mutual, as Kesha tweeted; "My new song with Macklemore reminds me of being 16 chasing wild dreams not knowing those moments would be so precious."
Now, the two are taking their common skills and appreciation for each other to the next level with a massive tour across the United States! At this special show, expect all the new songs from "Gemini," from Macklemore, while Kesha also has a brand new album to promote – the incredible "A Ghost Story!" Catch all this and maybe a few surprises too on Saturday the 21st July – it's going to be an incredible experience!