Hersheypark Stadium | Hershey, Pennsylvania
Things are getting exciting at the Hersheypark Stadium!! The incredible Imagine Dragons are on tour once again in 2018 with their latest album "Evolve." With special support from Grace VanderWaal, they'll hit the Hersheypark Stadium on Saturday 16th June 2018! Don't miss your chance to be in that crowd – grab your tickets to see Imagine Dragons live NOW while they last!!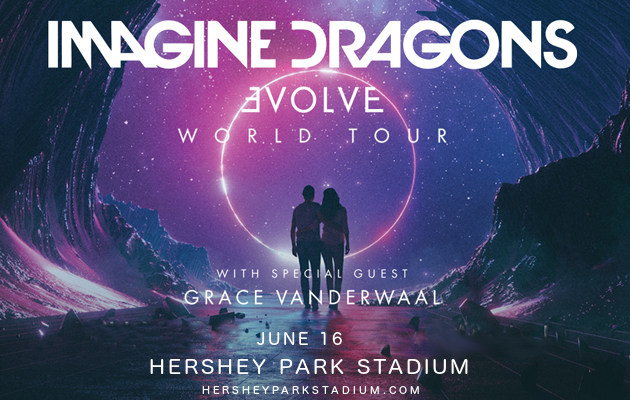 With their stunning debut, "Night Visions," in 2012, and "Smoke + Mirrors," in 2015, Imagine Dragons established themselves as a stadium rock act to be reckoned with, with soaring anthems like "Radioactive" – which spent an incredible 23 weeks in the Billboard 100! With their latest album, however, the band have decided to dial back a little on the grand elements of their sound, focusing on rawer, stripped-back emotion
"We wanted to be selective about each noise," Dan Reynold's, the band's singer and lyricist explained. "In the past, all of our sonic textures have been almost a wall of noise and music. But we've found through this process that you can be just as emotional and just as grand using maybe four instruments as opposed to us using 50."
We can hardly wait to hear it all live – can you?? No? Then be quick about grabbing those tickets, they won't last long!!