Hersheypark Stadium | Hershey, Pennsylvania
Fans of Fall Out Boy, get excited!! Your favorite punk-pop band are on tour with their latest album, "MANIA". Joining them on the massive North American jaunt is Machine Gun Kelly – they're on their way to the Hersheypark Stadium on Saturday 1st September 2018!! Get ready for an absolutely epic performance – book your tickets NOW while they last!!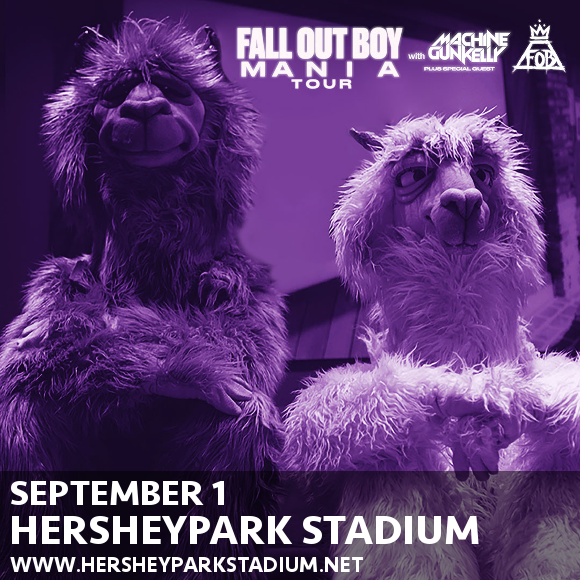 Since they first burst onto the underground scene in 2003 with "Take This to Your Grave", Fall Out Boy have influenced the shape of pop punk music. With their debut major label release, "From Under the Cork Tree," the band became pop icons across the world and started to see the band achieving multi-platinum singles and nominations for Grammy Awards!!
"Mania," is the latest full-length release by the band. The new record explored some sounds never-before used by Fall Out Boy, in particular the lead single "Young And Menace," which features heavy electronic elements. Bassist and lyricist Pete Wentz spoke about the band's enthusiasm for new directions. "I think we have to just move forward – that's the goal of us (I don't mean the band; I mean humans) – we just need to evolve. No one wants to be who they were two years ago or 10 years ago… it's great to have that snapshot, but it's time to hang up your hat when you think your glory days are behind you."
What are you waiting for?? Grab your tickets to see Fall Out Boy NOW, while you still can!!