Hersheypark Stadium | Hershey, Pennsylvania
If you're a fan of Counting Crows, we've got the ultimate show coming up for you at the Hersheypark Stadium on Friday 10th August 2018!!! With their 25th anniversary tour, Counting Crows are back with a massive North American tour with Live as support! Tickets are expected to fly for this – so get in there and nab yours while you have the chance!!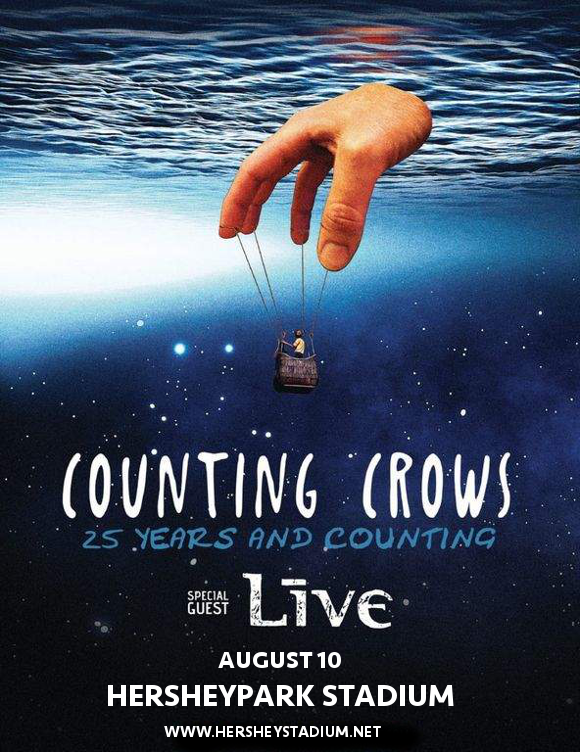 With their debut album "August and Everything After," Counting Crows broke through to a massive audience, in particular with the huge single "Mr. Jones," the band's first number 1 hit, resulting in massive touring schedules for the band both as headliner and in support for acts such as The Cranberries, Suede, and Bob Dylan!! During this time the band developed their distinctive touring style, involving a fresh setlist every night, with many of the songs featuring variations and improvised sections only heard live.
"I generally try and put songs from every album in every night," frontman Adam Duritz said, when asked about the expected setlist for the upcoming tour, and whether the latest album, "Somewhere Under Wonderland" would be the central point of the tour. "There's usually a mix of songs from every record. When we make the set list, we have a piece of paper that has every song divided up by album so when I decide to play something, I mark it on there so I can see how many I choose from each record."
Get ready for the Counting Crows live experience – grab those tickets while you can!!