Hersheypark Stadium | Hershey, Pennsylvania
Alternative rock fans, are you ready for BREAKING BENJAMIN?? They're back in 2019 with a HGUE North American tour, and this time, they're joined by fellow alt-rock veterans Chevelle and Three Days Grace!! They're performing at the Hersheypark Stadium on Saturday 27th July 2019 – be there!! Tickets on sale NOW!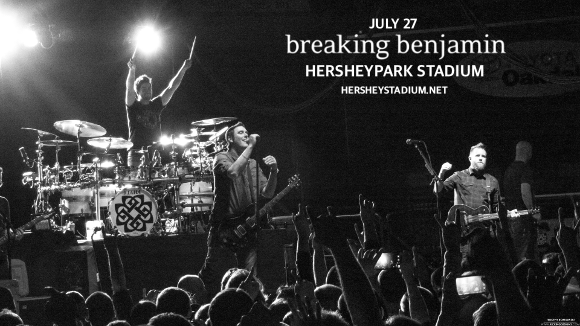 Breaking Benjamin are touring with their most recent album "Ember". With the current lineup now comprised of bassist Aaron Bruch, guitarist Keith Wallen, guitarist Jasen Rauch, and drummer Shaun Foist in addition to the band's only constant member, Benjamin Burnley, writing duties have begun to be shared out more evenly across the band, with the first songs not to be written solely by the singer appearing on "Ember". The more even distribution has been a huge positive change for the band, with Burnley more than happy to relinquish some songwriting duties.
"I've always wanted to," the singer revealed earnestly in an interview. "I never wanted to be the only writer in the band. I never wanted the spotlight on me or anything like that, it just happened to be that way because I was the only one writing things that I could relate to and attach to. So now these guys are writing things that I can also relate and attach to."
Are you ready to see the latest and greatest version of Breaking Benjamin live?? Then get your tickets NOW, while they last!!