Hersheypark Stadium | Hershey, Pennsylvania
"Happy Days" as the famous punk rock band Blink 182 has released a new song "Edging" on October 14th 2022, as well as revealing their latest world tour dates! They will be performing live in concert at Hersheypark Stadium on Saturday, May 27th 2023. This stadium boasts being the most popular outdoor event stadium in its area, with state-of-the-art sound and lighting systems. The well-known trio which formed the original band in 1992, have got back together again after a few years apart for this unbelievable show, not to be missed! Tickets on sale now, so get yours today!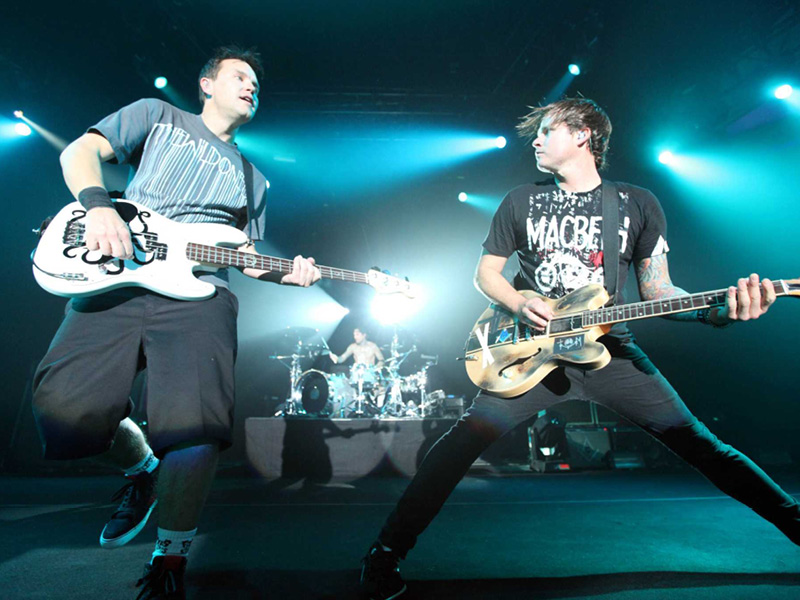 Blink 182 was formed 20 years ago in California. Friends since teenagers, Mark Hoppus and Tom DeLonge created what is one of the greatest pop punk bands the world has ever seen. They have sold over 13 million albums in the United States, and over 50 million albums worldwide. Travis Barker joined the band in 1998 helping create their famous album entitled "Enema of the State", which propelled the band into stardom. The musical style used to describe the band is, blending "catchy pop melodies with fast-paced punk rock. Their lyrics center on relationships…. And maturity – or lack thereof".
Thankfully, DeLonge has returned to the band. He left in 2005, as well as in 2008, before eventually returning in 2022. This was because he and Hoppus decided to repair their relationship, after Hoppus was declared cancer free earlier that year, beating the disease. From 2015 to 2022 Matt Skiba, the singer and guitarist from Alkaline Trio, was part of Blink 182, who is said to be "truly grateful for my time with Blink, and I am truly happy you guys are a band and a family again."
Traveling from the Americas to Europe and ending in New Zealand, they will be accompanied by many famous bands such as Wallows, Turnstile, Rise Against and The Story So Far.